Welcome Program Tours
We have three great tours on the Welcome Program. On Friday we have the Highlights Tour and then on Saturday you have a choice between River Rafting and the Turtle Island Tour. Below you will find more information about each of them. If you are going to have children under the age of 11 on the Welcome Program, the only Saturday tour option open to them is the Turtle Island Tour.
All of these tours are also available separately and can be booked for you at excellent prices by the ISLS Staff. Just give us a call, send e-mail, or come by the house.
Friday Tour
Highlights Tour
This is one of the most popular Central Valley tour options as it give a great deal of diverse experiences in one outing. With this tour you get just what the name suggests, you hit the highlights of all the main day trips out of San Jose. You will visit volcanoes, butterfly farms, national parks, float down rivers and see a great deal of wild life. It is a fun, non-physically taxing tour that gives you a good sampling of what it out there to see and do.
Itinerary
Students will be picked up at the guesthouse around 6:30 in the morning. The tour lasts approximately 12 hours and includes all of the following: Breakfast at beautiful Siempre Verde Coffee Plantation & tour of plantation gardens. Visit to the Poas Valcano National Park. Hike into the rain forest to La Paz waterfall & coffee break overlooking San Fernando Falls. Buffet in the jungle lunch at the Selva Verde Jungle Lodge. A naturalist guided tour of the rain forest. The Sarapiqui River float trip for a closer experience of the rain forest ecosystem and wildlife. Drive through scenic Brauilo Carrillo National Park.
What to Bring
Good shoes for walking and hiking along trails and in the rain. An umbrella, raincoat, long pants and insect repellent. You might also want to bring binoculars in order to see the birds and wildlife better.
The Guides
You will have a main guide and a driver who are both very knowledgeable about the local history, nature and wildlife. During certain sections of the trip you will have additional guides who will bring a more specific background to their area. All are highly trained in emergency procedures as well as first aid and CPR.
Saturday Tours
River Rafting on the Rio Pacuare
This is a tour for those who want excitement and to feel that adrenaline rush. It is not appropriate for children under the age of 11 years and the ability to swim is a must. This is the original Costa Rican adventure tour. The Pacuare River is world famous for its beauty and its incredible rapids. So, if you are looking for adventure, this is it!
Itinerary
You are picked up at around 6:30 am and transported by minibus to the Rio Pacuare. Along the way there is a stop for breakfast at a country restaurant. At the river, you receive a half-hour of training on how to raft, along with safety tips and emergency procedures. Once on the river, you will experience some of the best rafting in Costa Rica over class 2, 3 and 4 rapids.
This is the perfect trip for both beginners and seasoned rafters alike. The countryside and deep gorges are awesome. The total time on the river is about 5 hours with a stop in the middle for a picnic lunch. After the ride is finished, there will be an opportunity for you to purchase photos of the days rafting. You will return to San Jose around 6:00 pm.
What to Bring
Be ready to get wet! You should wear tennis or water shoes and shorts or a bathing suit. A light nylon jacket and a polypropylene or wool shirt is sometimes welcome on rainy days. We recommend a change of clothing and a towel for after the trip.
Included
All river rafting trips include transportation to and from ISLS House, breakfast, lunch, all rafting equipment required for the rivers such as: rafts, lifejackets, helmets and paddles.
The Guides
All guides are trained in CPR, Basic Life Support, First Aid, and Swift Water Rescue.
Turtle Island tour to "Isla Tortuga"
For people that do not want to go river rafting, you also have the option of the Turtle Island Tour. This one day cruise to the Island of Tortuga is one of the most popular tours in Costa Rica. You will be picked up at 6:00 am and transported by private shuttle down to the Pacific coast town of Puntarenas, where you will board your boat which will take you on a leisurely cruise of the islands just off the Pacific Coast. There is plenty of room for over 100 passengers.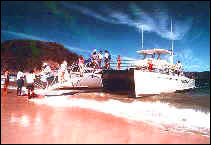 Itinerary
After cruising around a number of different islands in the Gulfo Nicoya for 2 hours, you will arrive at Isla Tortuga, which is a National Preservation Area. On the Island you will be able to swim, snorkel, kayak, play beach volleyball, or just lounge around for 5 hours. During this time, you will have a gourmet lunch along with a delicious ceviche appetizer.
At around 3 in the afternoon, passengers re-board the boat and return to Puntarenas and then back to San Jose, arriving around 7:00 pm.
What to Bring
You should bring a swim suit, sandals, sunglasses, sun block, a beach towel and change of cloths. You will also want to bring a light rain jacket in case it rains while on the island. If you have your own snorkel and fins, you will want to bring them as well as binoculars.
The Guides
All personnel and guides are highly trained in emergency and rescue procedures. They are all trained swimmers who have passed lifeguard training and swift water rescue. They are also trained in first aid and CPR.