Nursing Medical Spanish Program, Arenal (Fortuna), Costa Rica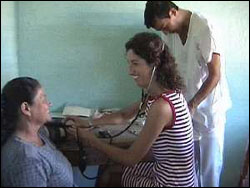 ISLS is happy to announce the expansion of our highly successful Medical Spanish immersion program with the addition of a medical Spanish program devoted solely to nurses, nurse practitioners, nursing students, or anyone else interested in learning medical Spanish from the nursing perspective. This program has recently been accredited by the state of California for Continuing Education credits. This means that nurses from California can fulfill their contact ours needed for their profession through this program. We are in the process of getting the program accredited by the other 49 states as well and foresee that happening in 2007.
The Nursing Program is located at our Arenal (Fortuna), Costa Rica campus. This is a very unique location for the program as it is a large enough town to have many clinics as well as two hospitals in the surrounding area. Through our close association with two local clinics we have been able to craft a program that is truly unique in all of Latin America.
This program will give nurses the ability to converse with Spanish speaking patients in a hospital or clinic environment. The program's goal is to develop or improve a nurse's Spanish language abilities in the workplace. Our students will learn standard Spanish in 4 hour morning classes that have been divided into one of nine levels based on their individual Spanish proficiency. The 2 hour afternoon classes and medical visitations have been designed to accommodate all levels of Spanish ability, and focus on medical Spanish terminology and Spanish speaking communication skills. The class time is supplemented with the addition of medical site visitations, to local Costa Rican clinics and hospitals. During these visitations, under the supervision of our in house nurse/preceptor, students will accompany nurses in local hospitals and clinics. Evening talks are also scheduled once a week with our nursing preceptor and other local nurses where specific areas of interest to individual students can be discussed.
Our nursing Spanish classes are structured in weekly blocks of interrelated subjects which act as a one week stand alone entity. This way, students joining the program on any given week will not feel they are entering in mid stream. The complete program lasts four weeks, but students are welcome to enroll in fewer weekly sessions as determined by their individual budget and schedule, without any loss in the continuity of their program.
The Nursing Program price of $75/week is in addition to either the Standard or Deluxe Adventure program price with host family lodging. The program includes classes, lodging, breakfast & dinners, all study materials, and various adventure and cultural tours so that students get a break in their studies to experience this ecological wonderland.
Nursing Spanish Program Content
Dr. Sergio Arias, Program Director
Nurse Pablo Valverde, Nursing Program Coordinator

The ISLS nursing program consists of:
4 hours per day of morning Standard Spanish classes. Each student will be separated into one of nine levels of Spanish classes aimed at their current individual level of Spanish fluency.
3 hours per week of afternoon classes in weekly blocs of related subject matter (one hour for three days), geared toward learning medical terminology and culturally appropriate communication skills designed to be specifically applicable for nurses in dealing with Spanish speaking patients and their families.
Weekending "charlas" (medical seminars) are held combining both the medical and nursing Spanish students and our staff to discuss that week's bloc of subject material. This allows individual questions from students who wish to clarify or expand on that week's classroom content.
Visitations, accompanied by staff preceptor, for 3 hours per week to one or two of the following:

Either of the general practice clinics at La Fortuna or Monterrey
Either of the general hospitals at Ciudad Quesada or San Carlos. (This option is only open to nursing students with an intermediate Spanish fluency level or above)
Accompany nurses in the country's social service system (CCSS) during their community outreach visits to individual families.